The Ladder: Small Business, Big Payoff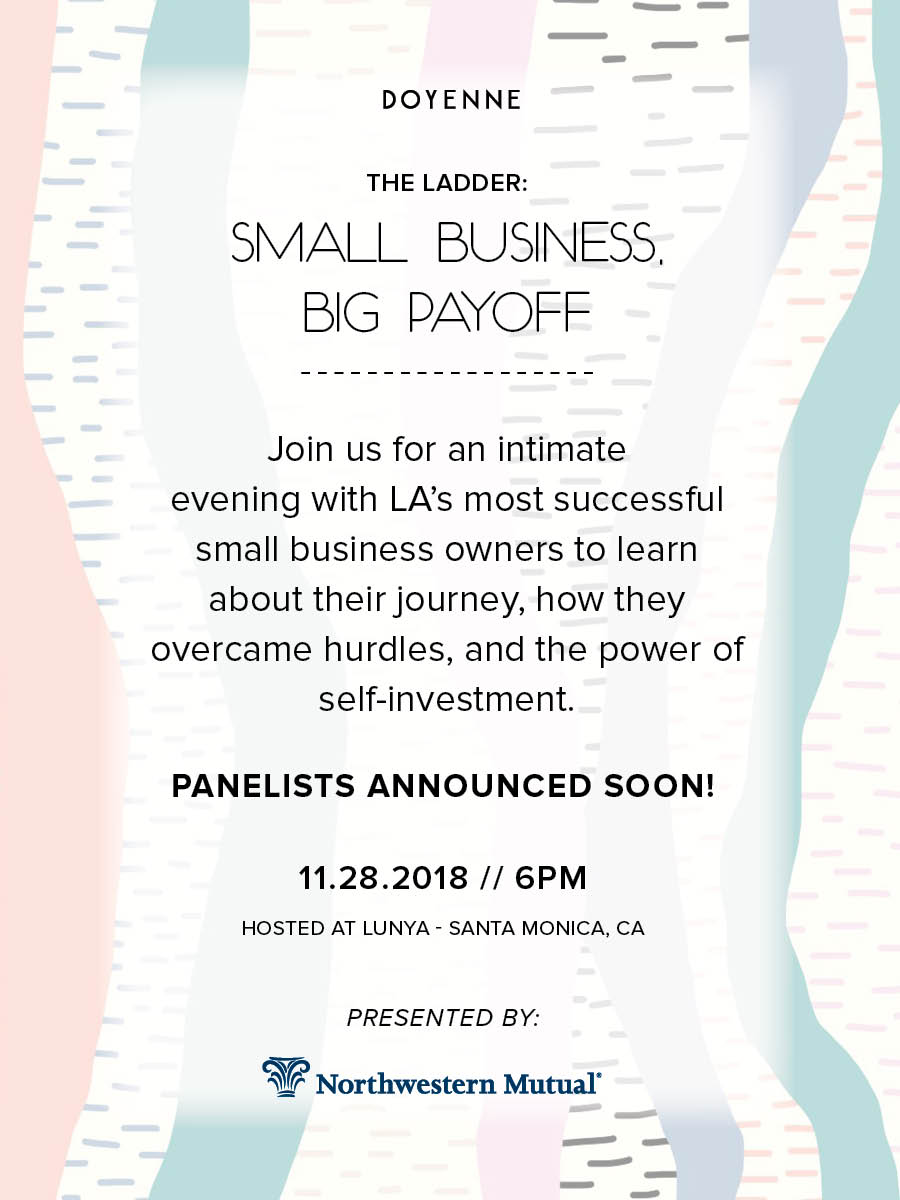 The Ladder: Small Business, Big Payoff
Doyenne is thrilled to partner with Northwestern Mutual on immersive panel highlighting some of the top small business owners in Los Angeles. Panelists will discuss how they launched their businesses, set themselves up for success, and the importance of investing in oneself.
PANELISTS
ELLEN BENNETT
Ellen is the Founder and CEO of Hedley & Bennett, the LA-based apron and culinary lifestyle brand that can be seen across 6,000+ restaurants/cafes/coffee shops around the world; in national retailers including Williams Sonoma, Sur La Table, Nordstrom; and worn by celebrity chefs such as Dave Chang, Jon Shook and Vinny Dotolo, Kristen Kish, Jesse Tyler Ferguson and Martha Stewart.
ERICA CHIDI COHEN
Erica is the a doula, author and the co-founder of LOOM, a space dedicated to empowered education from periods to parenting. Erica is passionate about helping people cultivate body literacy and the tools to advocate for reproductive health and wellbeing. She has guided thousands of people in their transition from pregnancy to parenthood in her practice and through her book, Nurture: A Modern Guide to Pregnancy, Birth and Early Motherhood.
ASHLEY MERRILL
As the founder and CEO of Lunya, Ashley and her brand are setting the new sleepwear standard by starting with women's needs and working backwards. Her mission is simple - to make women's lives better through product, experience and example. Beyond building Lunya, Ashley is an active supporter and board member for Girls Inc., a supporter of both Upstream and Planned Parenthood, and invests in many female entrepreneurs and funds.
EVELYN RUSLI
Evelyn is the President and Co-Founder of Yumi, a nutrition and wellness company for babies. Prior to Yumi, she spent 10+ year as a journalist, on staff at the Wall Street Journal and the New York Times covering startups and innovation. Recognizing the importance of nutrition in the first 1,000 days of life, Rusli co-founded Yumi to provide balanced meals to support babies' neurological and physical development.
MODERATOR
RENEE COHEN
Renee is a Financial Advisor at Northwestern Mutual who learned to manage her own finances from the ground up after nearly a decade in the sports media industry, Renee's passion for one-on-one coaching and natural talent for strategic analysis inspired her to follow her calling and empowering others on their path to financial freedom.
Tickets are Final Sale